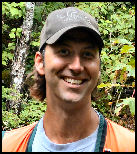 Matt Watkeys
Marquette-Alger
Conservation District
Watkeys, Matt - NRCS, Marquette matt.watkeys@mi.nacdnet.net


As a Conservation District forester, no two days are exactly the same, which I I suppose is similar to some other foresters, but maybe with different priorities. My first priority is to serve as the initial point of contact for private forest owners, natural resource professionals, and local governments, groups, schools, and associations, for the management of forestland, wildlife habitat, and related natural resource activities in Marquette and Alger Counties. My job is part of a statewide assistance program that has placed foresters in several Conservation Districts (CDs), focused mostly in the Upper Peninsula and the northern portion of the Lower Peninsula, to perform the same duties for forest owners. Part of the job is meeting with owners, sometimes at their forest, to walk and talk about the woods. I help provide certain technical assistance, advice, and recommendations, and then refer them to the programs, agencies, forest consultants, or contractors to help meet the owner's goals. This means maintaining lists and relationships with agencies and service providers.
You may see articles published or advertisements for workshop and educational field days, which is another aspect of the job we do. Those workshops are usually highly attended. And then there is the education and assistance provided for the Qualified Forest Program, which is a property tax incentive program for forest property owners who are involved in active management of their parcels.
Of course, my favorite part of my job is talking with forest owners, and to see the excitement on their faces when they talk about their land, the projects and activities they have done over the years, and the opportunities for the future. One of the best ways to instill some management ideas into folks is to encourage people to conserve and manage their forests by teaching them to love and understand them.