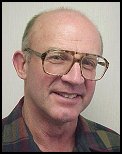 Warren Suchovsky
Logger, for one
Suchovsky Logging
Daggett
warrensuchovsky@fastmail.fm



Today was almost typical---got up at 4 a.m. drove 150 miles to Gaylord for a meeting of a couple of hours, drove back, and then operated a harvester for six hours.
I am a very curious person who likes to learn and to be involved. I am a member of several forestry organizations: Michicgan Association of Timbermen, Society of American Foresters, Michigan Forest Association, Great Lakes Forest Alliance, and Farm Bureau. Additionally I am a member of the Michigan Forest Finance Authority and the DNR's Forest Management Advisory Committee. I spend about one week per month on association related activities attending meetings and corresponding by phone and e-mail. I am able to do this because my son does an excellent job of running the day-to-day operation of our business.
I have been very involved in the Master Logger Certification movement. I completed the writing of the Michigan MLC template and developed the initial audit form. I've served as an auditer in Michigan, Minnesota, and Wisconsin and am currently a member of the Wisconsin Certifying Board. I have assisted in the training of auditors in Minnesota. My son's and my logging company is a Certified Master Logger company.
I began my logging career when I was 10 by helping my dad on weekends and during the summer. My first job was skidding with a horse and cutting with a bow saw. Today, I mainly operate a harvester. I do some hand-felling of oversized trees, but modern harvesters have almost eliminated the need for hand-felling. I do a little bulldozer work and once in a while a little forwarding.
As a logger my daily activities require me to know at least a little bit about forest management, wildlife, engineering, economics, and business. I must have a resonable level of skill in mechanics, electrical and hydraulic system maintenance, and operating various machines. Most importantly I must be able to make decisions quickly and to be able to solve problems.