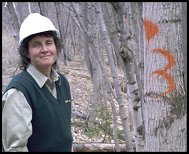 Martha Sjogren
Timber Sales Forester
Hiawatha National Forest
St. Ignace
msjogren@fs.fed.us



One of the things I appreciate about being a forester, and particularly a forester for the United States Forest Service is that every day is different and there are plenty of opportunities to grow.
On any given day, I usually start with a small stack of papers which I need to review to keep track of our timber sale accounts. It doesn't take long to get through it but each of our sales has its own account and it is important to our timber purchasers and the government to make sure that the accounts accurately reflect bills, payments, and balances.
Then, I usually make or receive a few phone calls…a timber purchaser with a question about their sale, one of our timber markers with a question about the layout of a unit, a private landowner with a concern about the condition of the road into their cabin.
Next, I grab my truck and head to the woods. First stop is to visit an active timber sale. I get to our sales on a regular basis to make sure things are going smoothly for the loggers and that the terms of our contract are being met. I like to see things for myself. Today is a good day. The crew is not having any trouble moving the equipment around in the unit. There is only minor damage to a single residual tree, there is no rutting of the soil, the access road is holding up well, and they have a nice deck of hardwood sawtimber growing. As I look out across the unit, I like the way the harvesting is creating gaps in the canopy for a new generation of trees to become established in this stand. Before I leave, I stop off to see if the crew has any concerns, let them know things look good, and remind them to put up "Logging Ahead" signs before they start hauling.
Next stop is to look at a sale we are about to layout and mark. The roads need a good brushing. A quick walk with our engineers helps us decide what reconstruction and maintenance of the roads will be needed to support the logging operation. This is a nice mixed sale with some hardwood, aspen, and a red pine plantation thinning.
On my way back, I stop at one of our jack pine sales that was harvested last winter. To my eye, things look good. The timber has been removed. Some snags and a couple large red pine have been left standing within the unit and downy woodpeckers, kestrels, and a sparrow are using them as sources of bugs, perches for hunting, or perches for resting. Since this is a larger size unit, a small patch of trees has been left from the original stand for habitat diversity. The unit is ready for our site preparation crew to come in and rollerchop, drag anchor chains across the ground to expose mineral soil, and let the seeds from the cones on site open up and start the new stand. I know that not everyone sees recently harvested stand the way I do. Some people see only the dramatic change and the slash. I see a job well-done and the future.
Back at the office, I return a couple of phone calls and log into our GIS system. Although I'm no technical wizard, in short order, I'm able to create an image background file for the sale we are about to start. I lay the stand lines for the harvest units over the orthophoto image and load it into the GPS unit to make several of the units easier to layout. I email it to our workstation to see if one of our markers will be able to load it into his new unit. I also put together a map of my sales for the next several years which need to have landlines established to share with our land surveyor.
Tomorrow's plan is to work on vegetation composition analysis for a new area and to prepare a write up to explain what I think it means.