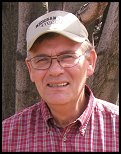 Jack Penegor
Forestry Consultant
Escanaba
forester@chartermi.net


Its 8:00 in the morning and I just finished a telephone call from a client. It seems that he misunderstood me. We first met this past October at his hunting property. He has 120 acres of mixed hardwoods and balsam fir. He doesn't have any property corners. His question to me was; "Why isn't someone cutting my timber yet?" When I first delivered a proposal to this client, we discussed the marking and line work that was needed and the bidding to expose that sale to several loggers. I also remember telling him that good loggers have timber bought at least one year in advance. I believe that I had a similar conversation with a client last year. At least the deer management didn't enter into the conversation. I would probably lose almost all of my clients with an honest assessment of the deer population. Thank goodness I'm not a wildlife biologist.
At least private work is easy. Its just marking, line running, and cruising the timber. The volumes can be determined from age-old tables. The acreage estimation comes from a GPS unit that has become somewhat familiar. The new U.S. Forest Service forest stand exam program is called CSE. Between interacting with the GPS portion of the PDA and the computer portion, both of which are fussy, and getting this data into my desktop, I'm really starting to feel old. There are so many pull down menus and options and I remember having to repeat basic Fortran in college. Now it appears that the State of Michigan will be switching to a GPS unit similar to the one I bought, so I guess that I had better get used to it.
I still feel lucky though. If I didn't have the existing contracts, I would be somewhere in Georgia or the Carolinas cruising in a swamp. That's where my potential subcontractors are at the present time. Apparently, the work down there is hideous.
I will spend the rest of today checking timber sales that are active. When these sales were marked, most wet areas were removed from the sales. But since they were winter only, some wet areas were left included because of the amount of timber that could be cut there. Now, I wish that either I had eliminated those areas or that the temperatures were a lot lower. I really hope that I don't have to chase these loggers out of the sale area, but I might not have a choice.