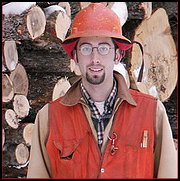 Jason Mittlestat
Assistant Unit Forester
DNR, Baraga
mittlesj@michigan.gov
I work in a four county area in Michigan's Northwestern Upper Peninsula on the Copper Country State Forest. I'm a recent graduate from Michigan Technological University with a Bachelors of Science degree of Forestry (a four-year program). I started with the DNR in the fall of 2003. Good grades, holding various forestry internships, and field experience gave me an edge in the application and interview process.
I have a wide range of responsibilities with land management activities and recreation on State Lands. This demands good public interaction skills. My normal day runs from 7:00 AM to 3:30 PM, usually being in the field 4 to 5 days a week. My job is diverse and duties vary daily as well as seasonally.
I spend a lot of time with timber sale preparation, marking trees to be harvested to promote forest heath and improve tree growth. Marked timber is sold to a logger. I also inspect active logging jobs to insure Best Management Practices are followed and damage is not done to the forest. However, before anything can take place, a forest inventory must be done to determine suitable places for management activities. Our inventory work is done in the winter, mostly using snowmobiles (the snow can be 5 feet deep here). I also help fight wildfires and can be dispatched anywhere in Michigan, the United States, and Canada, depending on the fire season.
My job allows me to be part of many forestry activities using many tools, both low and high tech, and learning is constantly taking place. I always wanted to work in the woods and I enjoy the daily challenges and opportunities my job presents.