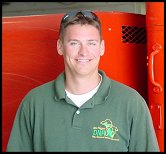 Jason Hartman
Wildland Firefighter
DNR, Roscommon
hartmajp@michigan.gov




I am a forester with the Michigan DNR at the Roscommon Field Office near the center of the northern Lower Peninsula. This region is notorious for large wildfires due to the dry climate and large tracts of jack pine. My colleagues and I spend a great deal of time each year on various aspects of fire management.
I graduated from Northern Michigan University with a Bachelors Degree in Natural Resource Conservation and completed my Masters Degree in Forestry at the University of Tennessee. My graduate research focused on using prescribed fire to control red maple in oak/pine forests, which is a management scenario that we are increasingly dealing with in the area that I currently work.
I started working as a seasonal wildland firefighter in college before working in my current position. This helped build some practical experience to put on a resume before applying with the DNR. Throughout a career, wildland firefighters go through some extensive training that builds on-the-ground experience that is developed over time. This training includes things such as fire behavior, fireline safety, incident management, and equipment operations to name a few. The DNR is primarily a mechanized firefighting unit that uses tractor-plows to cut a plow line around the fire and heavy duty off-road fire trucks to knock the fire down and mop it up. Equipment knowledge is a very valuable asset. As a forester, knowledge of the terrain, forest types, and roads also becomes a valuable asset when I am functioning more as a firefighter.
During fire season, which typically occurs in the spring and late summer, I plan to be back at the office around noon to standby with our equipment if it looks like it is going to be a fire day. A typical day can vary tremendously depending upon the weather. I spend a lot of time that doesn't directly deal with fire but almost all of the aspects of my job are related to fire in some way. Wildland fire is a natural phenomenon that has historically played a very important role in maintaining healthy ecosystems in my work area. I routinely evaluate a certain amount of state land each year and use timber sales and prescribed burning to replicate natural fires. I also plan fuel breaks to aid us in preventing catastrophic fires from burning into residential areas. One issue that we increasingly deal with is the parcelization of private inholdings within the state forest, which we refer to as the wildland-urban interface. As more houses have been built on these split parcels it has made planning for fire protection and forest restoration much more difficult.
Being a forester and a firefighter is a very challenging and exciting job. I would recommend it to anyone who enjoys the outdoors, physical labor, and long hours. Each fire season is spent primarily on very labor intensive work such as mopping up fires but there are also brief moments charged with adrenaline when you witness fire behavior that stays in your memory for years.