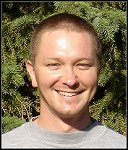 Dean Francis
Consulting Forester
Upper Michigan Land Management & Wildlife Services, Inc.
Escanaba
dean@michiganforesters.com
www.michiganforesters.com


In 2008, it will have been twenty years since my graduation from MSU. I began as an intern with Mead Paper (now NewPage & part of Plum Creek), managed a wholesale containerized tree program, served as Conservation District forester, worked for a consultant, and now co-own a forestry consulting firm in the U.P. Isn't there some theory of evolution, specifically natural selection that states, "One must adapt, change and move to become and remain a competitive, successful species?"
Over the years, I've gotten to do a wide variety of forestry activities. Almost all of it has been great fun. Some of those projects have included habitat typing, forest regeneration surveys, growing tree seedlings, working with forest owners, writing forest management plans, timber sale administration, boundary line location, tree planting and wildlife habitat improvement.
One day, I wandered upon a recently released bull moose feeding belly deep in a small secluded beaver pond. What a wonderful and unforgettable day in the woods! Wildlife abound. Seeing white-tailed deer, black bear, and ruffed grouse is part of the perks.
As anyone would expect, there's also been a lot of mosquitoes, black flies, horse flies, and deer flies, hot muggy days, icy cold days, critical deadlines, long hours (70+ hours per week), long commutes, and other worries.
As of this year (2008), I have met with over 600 landowners which has accounted for 50,000 acres of forest stewardship plans, 7,000 acres of private timber sales, 500 acres of reforestation projects, 10,000 acres of state and federal timber preparation contracts, and hundreds of acres of wildlife habitat improvement projects.
Now, I sometimes wonder what the next twenty years will bring.