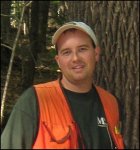 Paul Drysdale
Forestry Consultant
and Arborist
Cadillac
paul@drysdaleforestry.com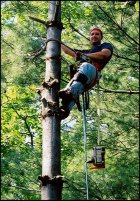 The "Dictionary of Forestry" defines an arborist as: one who possesses the technical skills, through experience and related training, to care for individual trees and related woody plants in the residential, commercial, and public landscape. An arborist may care for trees in many ways and at many levels. Some arborists practice arboriculture by actively pruning trees using climbing methods or using mechanized equipment, some may work as plant health care technicians, while others make managerial decisions as to the best way to care for urban trees.
I am both a consulting forester and a consulting arborist. Much of my work concentrates on traditional forest management that includes but is not limited to management plans, timber sale preparation and marketing, and woodland inventories and appraisals. However, I also provide services as a consulting arborist. Through education, on-the-job training, and testing I have attained a "Certified Arborist" status through the International Society of Arboriculture (ISA). Until recent years, part of my arborist duties consisted of climbing and pruning trees, however I now do mostly general consulting that consists of tree and landscape consultation, hazard tree assessment, tree value computation, expert witness testimony, and community forestry consulting.
Some common scenarios of tasks that I do are:
Tree and landscape Consultation - A homeowner may call me to determine why a tree in his/her yard is beginning to decline, and if there is anything they can do to save the tree. I determine the cause(s) of the problems and offer recommendations as to how to maintain the tree and if it is feasible to do so.
Hazard tree assessment - I have a group of clients that are part of a lake association that has me review the large trees on their lake front property. I identify hazardous trees and offer recommendations as to how to remove the hazards. Solutions may include removal of large dead limbs, cabling, and possibly tree removal.
Tree value computation/expert witness testimony - Trees add value to properties at many levels. Commonly, destruction/damage is done to landscape trees (accidental or intentional) which requires an appraisal of the value of the tree, and any cost related to the clean up or restoration. Sometimes disputes arise out of tree damage that requires the involvement of attorneys as well as the court system. I am often retained as an expert witness where I assess the value of the tree damage, and possibly testify in court if the problem cannot be resolved outside of the court room.
Community forestry consulting - Cities, towns, and villages hire me to review both street and park trees to discuss long term management, hazard trees, tree species diversity, proper pruning practices, construction projects near trees, etc. Recently I presented a half day pruning work shop for a small city in NW Michigan. I discussed general tree maintenance and proper pruning techniques with both the city tree board and the city employees whom are responsible for carrying out pruning on street and park trees.