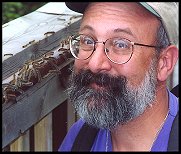 Bill Cook
MSU Extension
Forester & Biologist
Escanaba
cookwi@msu.edu

I work to provide forestry programs, public outreach, and network services to different groups, such as forest owners, schools and teachers, and fellow natural resource managers. I gave up most of my field career to help spread the good news about forestry. I really like what I do. Most people have never thought about how dependent everyone is on forests. We all use wood products. Many of us like to spend free time in the forest, hunting, hiking, camping, and lots of other things. Forests cover about half the state and wood products is one of Michigan's largest industries . . . and it is renewable and sustainable (things that I like a lot).
One of my favorite groups to work with is fourth and fifth graders. I use a presentation about forests and forestry that has lots of show-n-tell items. I ask lots of questions, tell stories, and have fun with the kids. I also learn from them. This age group has lots of enthusiasm and is old enough to understand many of the biological, social, and economic concepts of forests and forestry.
I discovered how important it can be to develop good reading, writing, and speaking skills. These usually don't come very naturally to many foresters and it took a lot of work to improve my skills. I use a computer almost every day, mostly for communication, preparing documents, and managing images. I have constructed a couple of websites to help tell the forestry story, including this one. I don't like computers, but they are an essential tool for me.
To become a forester, I needed a Bachelor's Degree, which I earned at the University of Wisconsin-Stevens Point. I have a BS not only in forestry, but also wildlife management, natural resources, and biology. My Master's Degree helped me get my job with MSU Extension. I earned that degree from the State University of New York, in International Forestry and Third World Development.