Brought to you by Michigan State University
GENTLE LOGGING DEMO
---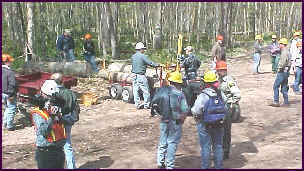 It all began as a suggestion from the field, as do many good suggestions.
There are many acres of productive hardwood sites where soils become soup after a hard rain. Logging in these conditions can be troublesome for both machine and the site. Foresters struggle with pressure to remove these kind of sites from timber management.
How do we minimize site damage from logging in these sort of stands with these sort of soils?
Part of the answer might be the use of a harvesting system with low ground pressure and low site impacts.
A group of folks in the Upper Peninsula decided to pursue a grant with the Forest Service Wood Education & Resource Center (WERC) located in Princeton, West Virginia. The project involved the planning of a logging demonstration, followed by a day of logging where environmental impacts were measured and a time study undertaken. The entire event was professionally video-taped for a network of satellite conferences to be held on 20 March, 2002.

Paul Piece-MDNR
On 9 May, 2001, about 400 people showed up to view five harvesting systems in action. There were many discussions among the loggers, foresters, land managers, mill operators, and others who watched the equipment operate in the woods. The site was located near Munising, Michigan and Pictured Rocks National Lakeshore in a stand managed by Shelter Bay Forests for the Kamehameha Schools Bishop Estate. The stand was marked by the Michigan Department of Natural Resources.
The day was perfect, temperature in the low 70s, sunny, and no bugs. The soils seemed almost too dry to demonstrate operations in soft conditions. Although, two weeks prior to the event there was still snow on the ground with several heavy rains to come. And, heavy rains came the night of the public demo prior to the impact measurement sessions the following day.


Dwight Jerome
Dwight Jerome, soil scientist with the Natural Resource Conservation Service, and one of those judging the effectiveness of the equipment, said "My initial impression is that it's a great improvement over original wheeled systems. They really don't seem to be having much of an impact."


Ray Miller
The demo part of the project was soon dubbed "Gentle Logging" by Dr. Ray Miller, manager of Michigan State University's Tree Improvement Center located near Escanaba. "We're not trying to find a winning machine, we're just trying to determine what would be effective out here," said Miller.
Four of the five systems demonstrated were from companies familiar to most woods workers. All systems were cut-to-length models. Fabtek, Valmet, Timberjack, and Ponsse were present. The fifth system was a mix of smaller operations from Harvest Systems of Negaunee, Michigan, a farm tractor operated forwarder from Robinette Iron Arm, and ATV-based trailers by Remorques and NovaJack. The rubber-tired processors and forwarders donned "Eco-Tracks", from Olofsfors, designed to further reduce ground pressure.
Peter Grieves, of the Michigan Association of Timbermen, noted, "Much of this technology has been developed in the last decade and now it's reliable for use."
---
The results of the evaluation and site studies are now available. For more information, contact Bill Cook at email: cookwi@msu.edu or 906-786-1575.
---
---


This website is maintained by Bill Cook, Michigan State University Extension Forest in the Upper Peninsula. Comments, questions, and suggestions are gratefully accepted.
Last update of this page was 21 September, 2005
---
This site is hosted by School of Forest Resources and Environmental Science at Michigan Technological University.